You probably heard that Amazon closed down its book trade-in program. However, you can still sell textbooks on Amazon. That's what this guide is about. If you've not heard the news, here's the short version: Amazon abruptly ended its textbook trade-in program with no reason or public warning.
However, a few reasons can explain why Amazon took this decision. If you want to know why and other legit alternatives to selling your textbooks online, read this guide: Amazon Closed Down its Book Trade-In Program: Here's What You Can Try Instead. 
On Amazon, you can sell standard book formats like ebooks, paperbacks, and hardcovers. And it doesn't matter the book you sell – whether comic books, non-fiction books, rare hardcover collectibles, etc., Amazon got you covered. 
Let's dive in more. 
A Full Breakdown On How To Sell Textbooks On Amazon. 
If you want to sell your textbooks on Amazon, you have to do three things: 
1. The fulfillment method you want to use for your textbooks (FBM or FBA).  
The FBA (Fulfillment by Amazon) is an Amazon service that handles refunds, inventory storage, order fulfillment, and even customer support for Amazon sellers. FBA allows you to concentrate on other elements of your business while Amazon handles order picking, packing, and shipping. 
Most third-party sellers use FBA, according to JungleScout.  
Use FBA if you have a high number of orders to fill. And also, if your business isn't large enough to have less than the FBA fees and shipping expenses. Amazon's fulfillment facilities will store your books until they sell. So you won't need a location to store them.
FBM (Fulfillment by Merchant) is a method of selling on Amazon where you sell your products on Amazon. However, you handle your shipping, customer service, and shipping. A Merchant Fulfilled Network, or MFN, is another name for this.
Since you're responsible for your inventory, remember to add in storage fees if you don't store the books at home. You should also include handling and shipping costs, including the time it takes you to pack and send your orders. 
We recommend FBM if you have a few orders coming. Or significant operation that your shipping costs are less than Amazon's. And as said earlier, you'll need to find a place to keep your books. 
2. Type of seller you prefer to be, whether professional or individual seller 
Your reasons to sell textbooks on Amazon will determine whether you have to be an individual or professional seller. Here's what you can do: go for the individual seller plan if you only want to get rid of a few items and make a small profit. 
It's an excellent choice to go for the Amazon professional seller plan if you want to truly create a business and make a regular income selling on Amazon. 
3. The way you source your inventory. 
If you want to find the best places to sell textbooks on Amazon, you have three sourcing options: 
Wholesalers: These companies buy enormous books from publishers to sell them to resellers.
Distributors: These businesses assist publishers in getting their books sold. You can buy books from distributors, although they are frequently more expensive than wholesalers.
Publishers: Some publishers can sell their books to you directly, but only in large volumes.
You'll need a massive budget for each of these options because you'll have to buy in quantity. However, because you'll be purchasing a large number of books at once, your per-book cost will be cheap, resulting in a higher return on each sale.
Other places to buy used textbooks include thrift stores, book store sales, yard sales, online marketplaces like eBay or Facebook Marketplace, estate sales, etc. 
A Step-By-Step Guide On How To Sell Textbooks On Amazon 
1. Create An Amazon Seller Account 
If you're not currently an Amazon seller, the first step is to set up an account. As explained earlier, there are two seller accounts: Professional and Individual seller accounts. 
Professional Seller Account
Click any of the "Sign Up" icons on the page to create a Professional Seller account. The cost of this account is $39.99 per month. However, when you sell textbooks, you'll not be charged any additional fees by Amazon.
Individual Seller Account
You can also click "Sign up to become an individual seller" to create an Individual Seller account. This account is free. However, Amazon will charge you $0.99 for each sale you make on your books.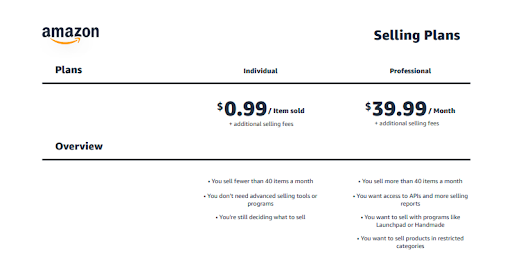 Source: Amazon. 
To create your account, click one of the links and follow the instructions. By the way, you'll need to give a valid phone number, payment card, and tax information. So, before you begin, make sure you have that available.
2. List And Sell Textbooks On Amazon 
After you create your account, it's to create your listings. Follow the below steps: 
Go to your Amazon Seller Central account and sign in.

Then, click "Add Product" from the "Catalog" menu in the top left corner of the screen.

In the search field, type the

book's ISBN

. You can usually find the ISBN on the copyright page or the bar code on the back cover.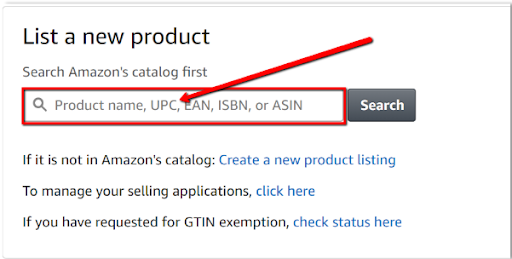 Now, there's a high chance your books will already be available on Amazon. If that's the case:
Choose the book's condition from the drop-down menu (Used, Collectible, or New).

Select "Sell this product" from the drop-down menu.

Give your book a unique identifier (SKU). This code can be anything you want. Amazon will generate an SKU for you if you don't provide one.

Type in your price. Remember that you're competing with other sellers, so don't overprice things. Have a way to balance your costs, so you don't lose buyers. 

Fill in the number of textbooks you're selling.

Select your fulfillment method (FBA or FBM)

Select "Save and Finish."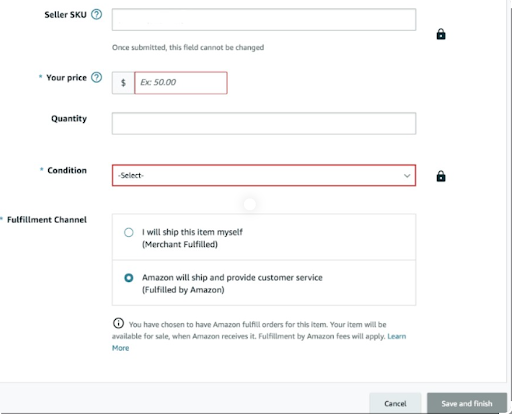 If your textbooks don't appear in the search results, it's not yet available on Amazon. To start building your listing, click "Create a new product listing." You'll need to fill in the textbook's title, the price, the quantity, the author's name, and other relevant details.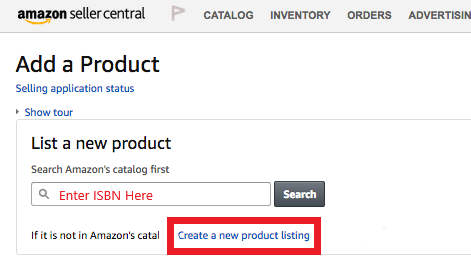 3. Track Your Sales And Make Necessary Adjustments 
When your listings get published, monitor your sales to know which textbooks sell. If any of your books aren't selling, you probably have to change your prices. 
Remember that the lower your price, the more likely you will win the buy box. That means your textbooks get purchased when people click the buy button. However, you have to be careful to avoid underpricing. 
You have to do thorough research because some books take time to sell. So you may not have to reduce the price. 
Final Thoughts: Is It Worth It To Sell Textbooks On Amazon? 
In a nutshell, yes, it can be worthwhile to sell textbooks on Amazon. But only if you do your homework well. This guide can give you a step in the right direction. You should also have a firm grasp of your pricing, time, resources, and effort. 
Your business plan, as well as market fluctuations, will determine how much money you can make to sell books on Amazon. 
Furthermore,  textbooks are often used for academic purposes. The majority of curricula employ specific books and base their lesson plans on the textbook's chapters. Hundreds of schools use the same texts and teach the same courses and subjects. 
And, for the most part, lesson plans are consistent from year to year. Every year, there will be classes that require your textbook. And that includes an increase in the number of students attempting to purchase your books. 
So if you sell textbooks on Amazon, there's a high chance of making good sales. 
But, you can always sell textbooks on BookDeal too and get the best price for your old college books!