The Amazon textbook buyback program was a massive success then they began purchasing textbooks and other books.
Amazon's book trade in program was a huge hit for more than nine years, trading in millions of textbooks and books.
The Amazon textbook buyback system became so prevalent for students searching for what to do with old textbooks.
For almost a decade, the program allowed people to sell books online quickly and at competitive prices. 
The company amassed an extensive inventory of college books while growing its user base, particularly students, through yearly subscriptions like Prime Student.
Unfortunately, Amazon has ended the textbook buyback program.
Some claim it was due to several different issues, even though Amazon made no public statement about its closure.
Regardless of the reason, you can still find a way to sell textbooks online.
Sell Your Used College Textbooks Now!
This guide will help you get the best and most reliable places to sell your books.
Let's begin.
What Happened To Amazon Textbook Buyback Program?
The Amazon textbook buyback program closed on April 1, 2020, without any explanation or public notice.
Even though this news may surprise and disappoint numerous students, there are a few reasons why Amazon made this move.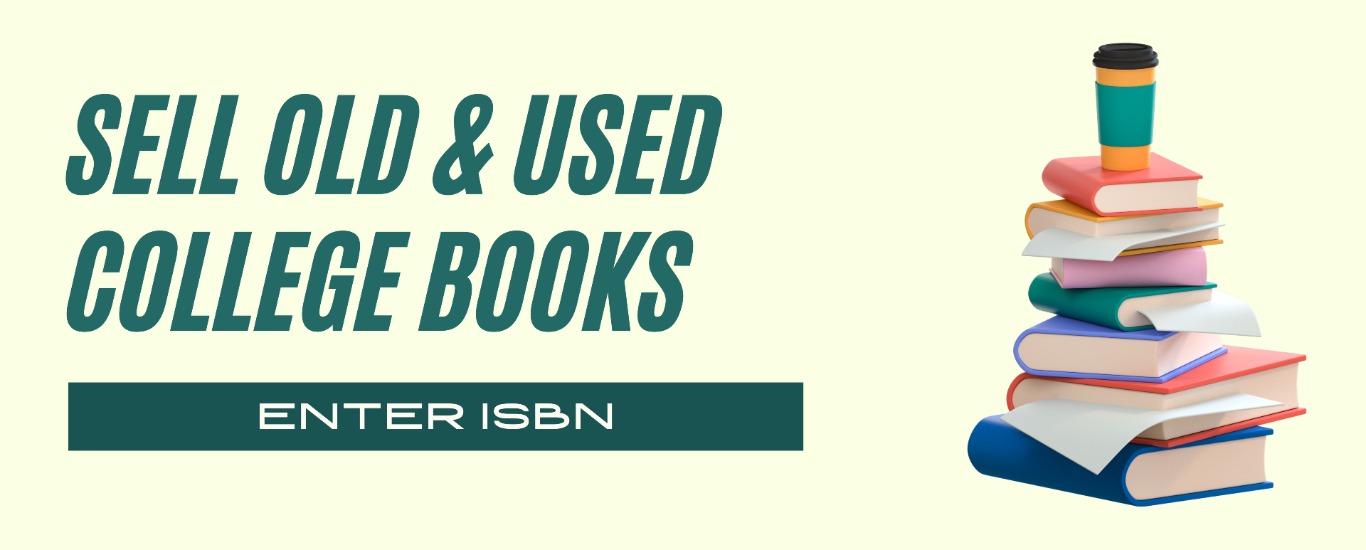 Industry Trends
For many years, renting textbooks and eBooks instead of buying them has become the standard option for students tight on budget.
Amazon's book trade in inventory from a decade ago allows them to rent books without incurring additional inventory costs.
Counterfeit Inventory
One of the significant issues in the book industry is counterfeit textbooks.
Unfortunately, the Amazon book buyback program didn't have a feature to refrain people from sending in fake books, whether they know it or not.
Besides, searching through Amazon trade in books to identify and dispose of these counterfeit copies is a daunting and challenging task.
So this might be the reason why the textbooks trade in programs ended.
Of course, we may never know the actual reason why the Amazon book buyback program ended.
But the important thing is that you have several other options to keep selling your textbooks online.
So Amazon's move to close down its Amazon textbook buyback program shouldn't be a big issue for you.
Keep on reading to know the alternatives to selling used books online.
Amazon Textbook Buyback: Options For Its Book Trade In Program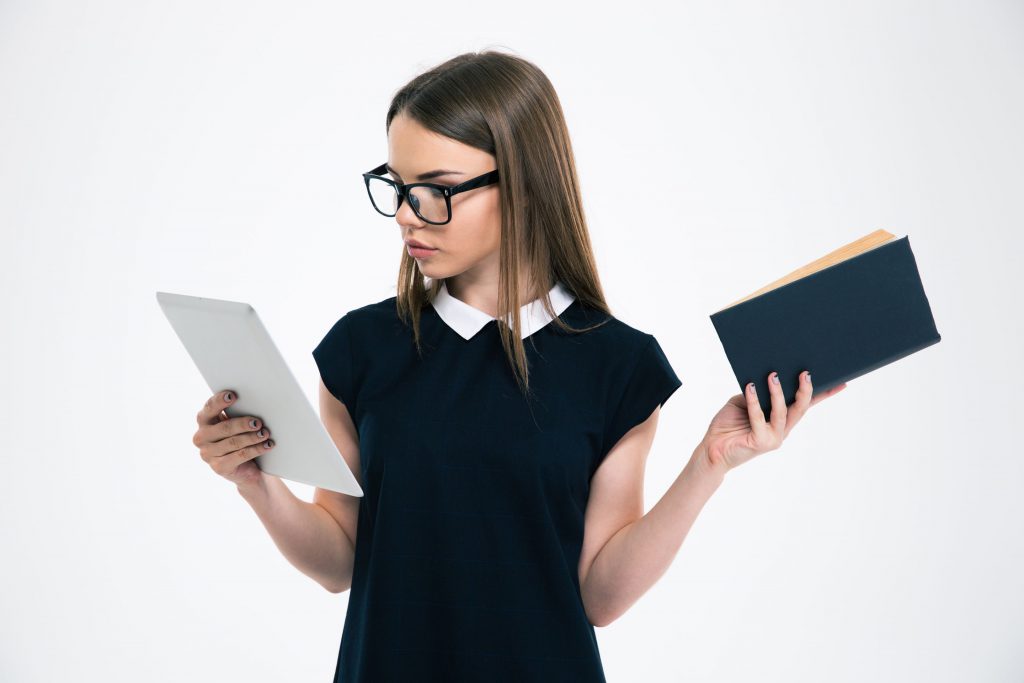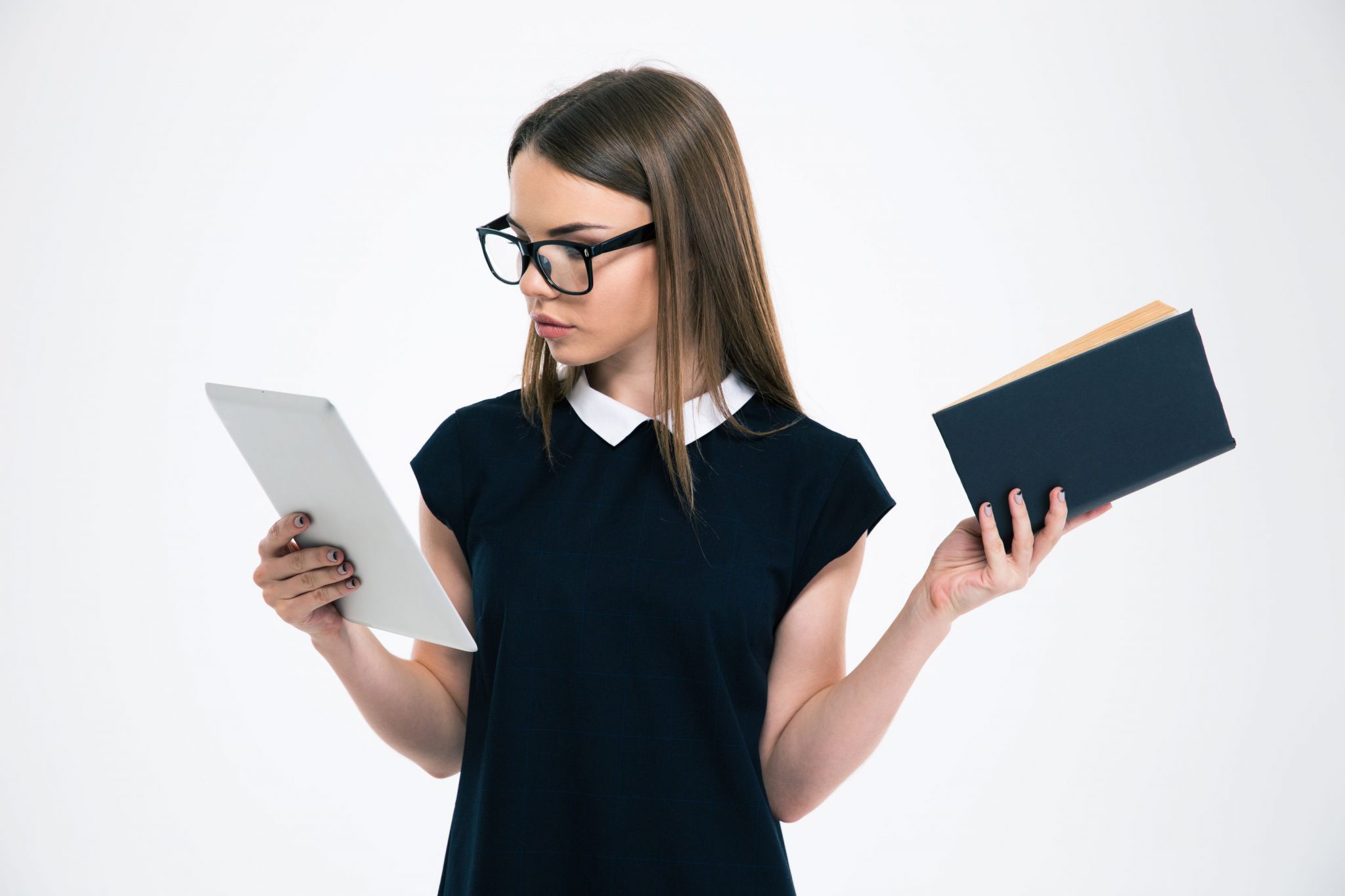 Even though the Amazon textbook buyback program is defunct now, you have other options.
Below, you'll find lists of top buyback sites where you can sell your used textbooks. Let's begin.

BookDeal.com
BookDeal.com is the best alternative if you're searching for the same level of convenience and competitive pricing.
But there's more: BookDeal.com makes the selling process easy, and you can sell your books within a few minutes.
The company has a vast network of reliable buyback vendors ready to offer you higher prices for your textbooks.
Furthermore, BookDeal.com allows you to upload your book's photos for evidence using the "Upload Book Photos' feature.
That way, you can be assured that you're getting paid for what you quoted.
To start selling your college textbooks, type in your book's ISBN

Choose your desired quote.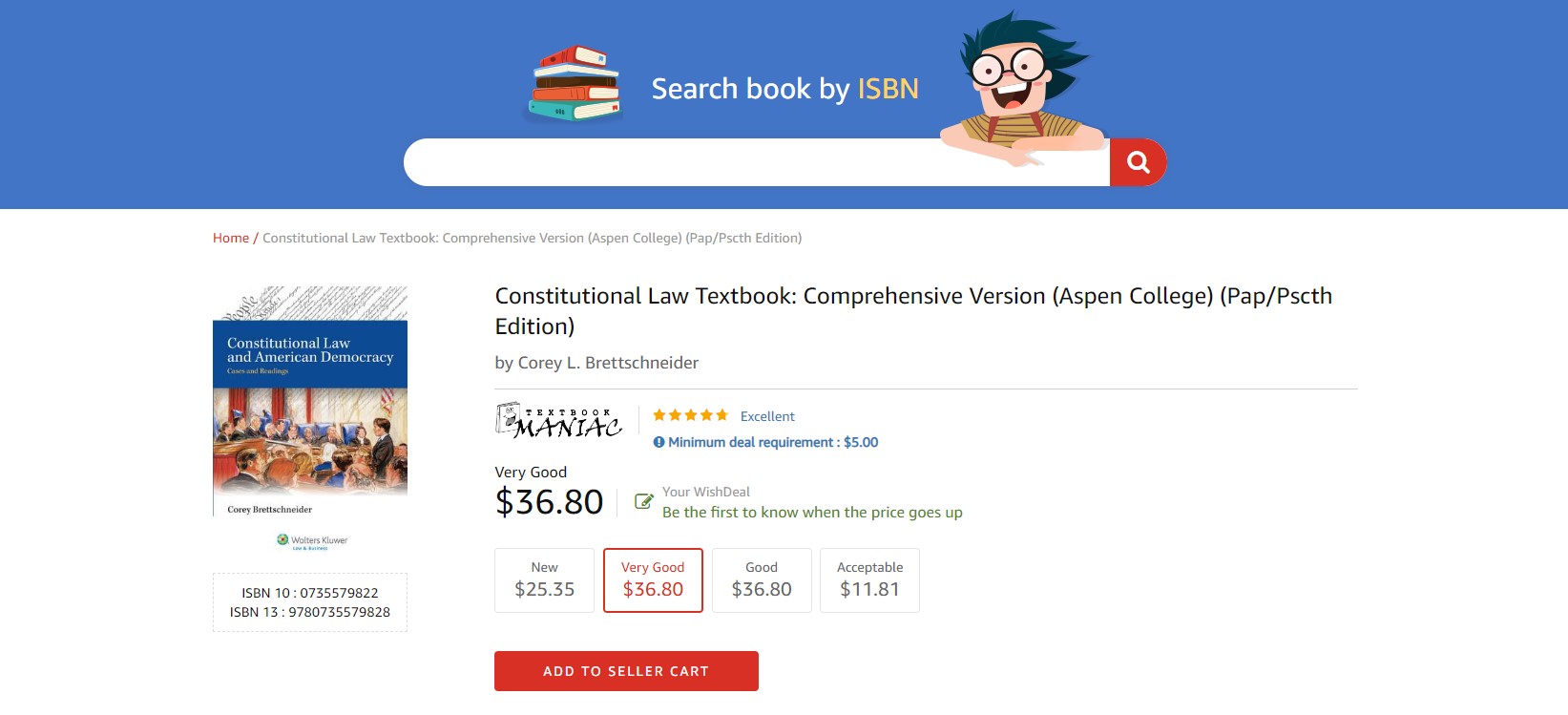 Below, you'll have different options to select from.


Go through the Deal Summary and ship your textbooks for free. It only takes a few minutes!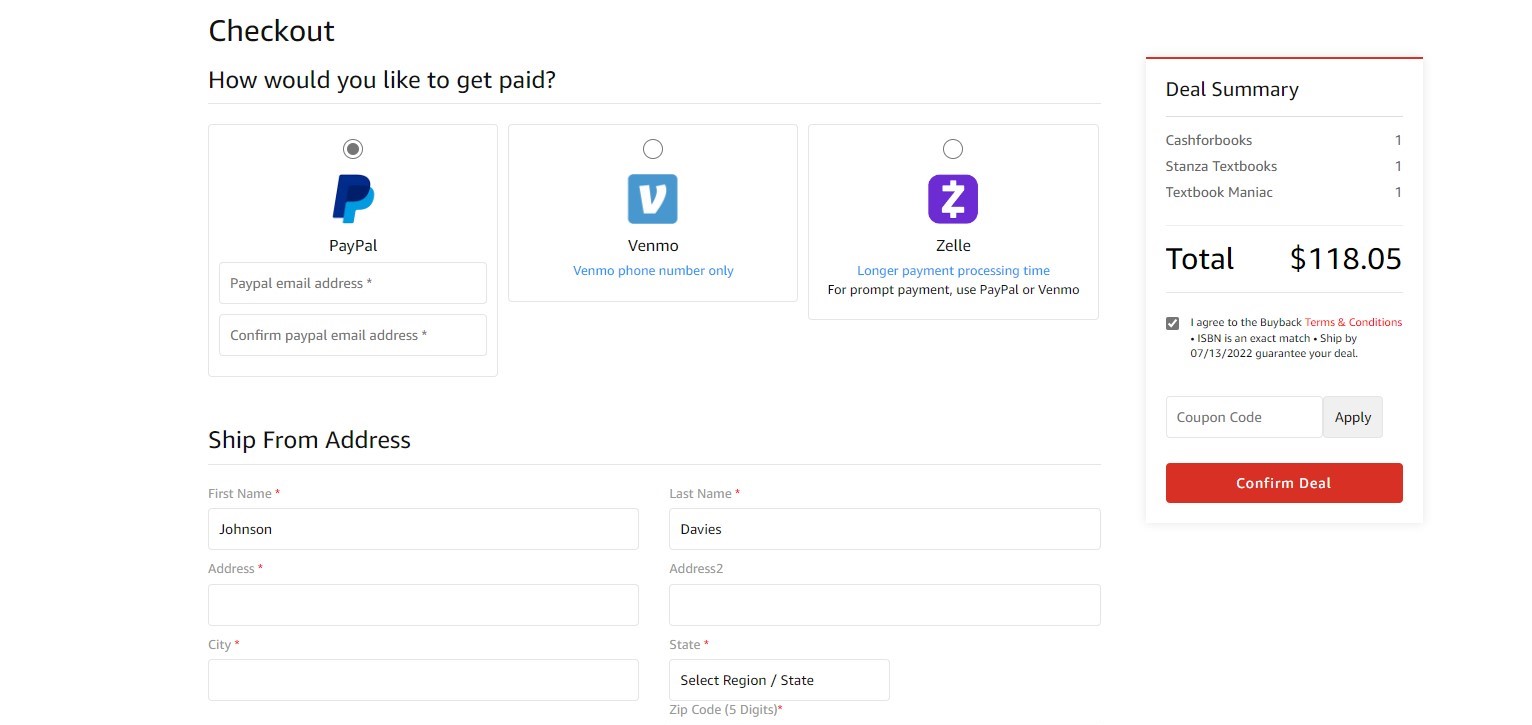 Print your prepaid shipping label to ship your books for free.
You get paid through Zelle, Venmo, or PayPal when your package is received.
It's the best alternative for the Amazon trade in books program.
Here's how to get the most out of BookDeal.
Winya Books
Winya Books started in 2013 and has become a reputable place for students to sell their textbooks online.
The company aims to help students nationwide buy, sell, and rent textbooks at competitive prices.
It's far better to buy textbooks on Winya Books than in your campus bookstore. If you sell your books, you also get free shipping.
In addition, WInya Books offer fast and accessible services, so you don't waste your time selling your college books.
All that is required of you are scanning or entering your ISBN and getting an instant quote. From there, you can ship your book for free.
So even though the Amazon textbook buyback program has closed, you can still use Winya Books to sell your books online.
Valore Books
Valore Books have been in the industry for quite a long time. So you can count on them to sell your textbooks with ease.
In addition, the company has extensive buyback vendors they partner with. So you always have multiple and reasonable offers.
The selling process is straightforward: enter the book's ISBN and get an instant quote.
However, you have 14 days to ship your textbooks if you accept the quote.
When Valore Books receives your package, you get paid within two weeks if you prefer a check, and two to seven days for PayPal.
You can also sell video games and movies besides selling high-school textbooks.
TextbookRush
TextbookRush allows you to search for quotes using keywords, author's name, ISBN, or title.
You can use this information to know if the company is purchasing that specific textbook and how much they'll be willing to pay.
Furthermore, you can sell video games and movies on that platform.
You can generate even more income from the video game section if you plan to sell books as a side business.
After receiving your quote, you have seven days to send your textbooks and media to TextbookRush.
And when the company reviews your package and approves them, you get paid via PayPal, check, or store credit.
You can usually receive the PayPal payments and store credit the next day. But it can take around ten days to get your check.
Empire Text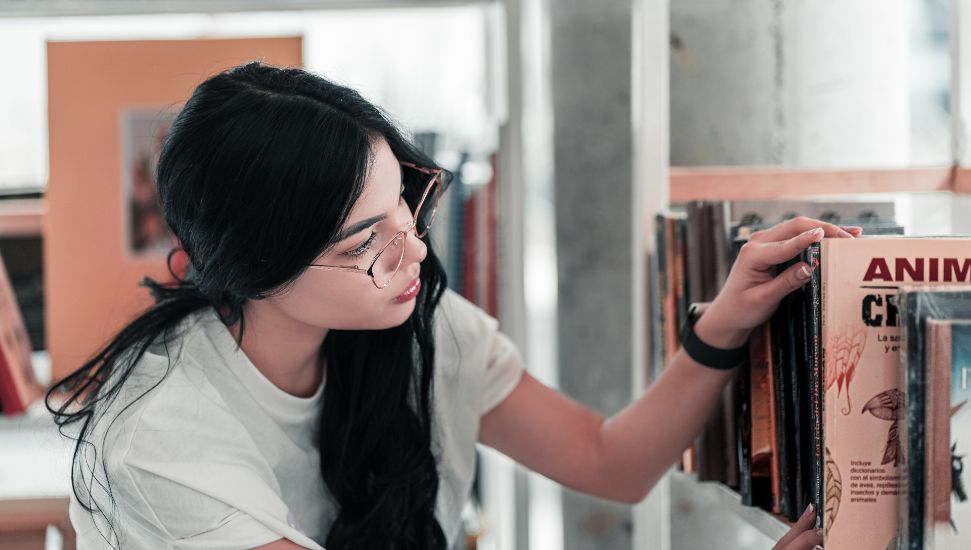 With the Amazon book buyback program closed down, you can conveniently use Empire Text to sell your textbooks online.
The company has been around since 2013, buying college books from students.
How to sell books on the platform works the same way as the other sites discussed above.
First, enter your book's ISBN, and if you're selling numerous books, enter all the ISBNs and separate them with a space or comma.
After choosing your preferred quote, you can ship your college textbooks for free.
Empire Text pays you through PayPal, Venmo, or check when they receive your package.
It's one of the best places to sell your textbooks besides the Amazon trade in books program.
Remember to check the following before you sell your textbooks:
Before selling your textbooks online, always check the buyback site's book condition and acceptance guidelines.
That will ensure you don't waste your time and effort and get the best price for your books.
You should also determine the best time to sell your books to keep your textbook's demand high.
Ideally, it's better to sell your books before the semester begins.
If it's not ideal for you, target May, right before the summer classes begin.
But keep in mind that fewer students usually take summer classes compared to the fall and spring.
The worst time to sell your books is in February, March, and October.
Final Thoughts
Amazon closing down its Amazon textbook buyback program shouldn't stop you from earning extra cash from your college books.
There is always another option if you know where to look. Fortunately, we've researched for you. So go through and choose the one that best fits your needs.
That said, we recommend starting with BookDeal.com. We always offer the best deals, and the selling process is simple and stress-free.
If you have questions, send us a message through our live chat, and we'll respond shortly.