Textbook rental sites can help you save lots of money. Here's why. Several things can add to the cost of your college education: Tuition and room and board. 
However, textbooks can significantly add to the overall education budget. Luckily, textbook rental sites can help you reduce such costs. 
When you purchase required textbooks outright, which is typically very expensive, it can increase your overall cost by thousands of dollars each year.
So reducing the price is a good idea. 
We'll look at the top textbook rental sites to help you save money. 
Let's begin. 
15 Best Textbook Rental Sites To Help You Save Money In College 
1. Campus Book Rentals 
Since 2007, Campus Book Rentals has been renting out textbooks, making it one of the pioneering businesses in the industry.
The website claims that since its founding, it has helped students save close to $117 million.
There are three choices from Campus Book Rentals: a quarter (85 days), summer (55 days), or a semester (130 days).
A 21-day free return guarantee is included with each rental period. 
That gives you peace of mind so that you don't pay for a book you won't use if you change classes.
Campus Book Rentals will provide you with a pre-paid postage label so you can return your book after the rental period.
If you need to retain the book for a little longer, there is also a grace period of 15 days; alternatively, you can pay for a 15- or 30-day extension.
Additionally, the company provides a discounted fee if you need to re-rent the book for any reason.
Excellent customer service is also available over the phone and through chat.
2. Chegg
Chegg provides numerous options for college students, including internships, scholarships, tutoring, and more.
Additionally, they provide textbook rentals, which they claim can help you save up to 90 percent.
Their textbook rentals all offer a 21-day risk-free return period. So you can get your money back if you decide to switch or drop classes.
But Chegg offers a 4-week trial to Chegg Study, making it one of the top textbook rental sites. 
Chegg Study is a paid service that provides detailed textbook solutions for your most challenging homework.
It also offers constant access to Chegg's Q&A specialists.
When you rent a textbook through their website, you can receive a free month of Chegg Study, typically costing $14.95.

3. Bookbyte 
You can rent, buy, or sell textbooks on Bookbyte, a comprehensive textbook marketplace. Their book renting option is user-friendly.
Enter the textbook's title or ISBN you require and select "rent" from the list of options. 
You can rent books from Bookbyte for 30, 60, 90, or 150 days.
If you want to retain the book for a bit longer, you have a seven-day grace period from Bookbyte.
After that, your order must cost more than $49 to qualify for free shipping.
That's more than the $35 minimum free shipping you'll see on many top textbook rental sites.
According to Bookbyte, renting textbooks from them can result in savings of up to 87 percent, or $112.93 per volume, for the typical student.
4. eCampus 
eCampus includes multiple offers and alternatives, which could be too complex. But first, the overview. You can get affordable books and ebooks.
For rent, they have varied rates for quarters, semesters, and shorter time frames. 
If your books are more than $59, shipping can be free both ways. If not, each book will cost a fixed $3.99. There's still more, though!
You can get discount codes for things like $5 off your first order by signing up for eWards, where you earn $1 for every 3 points. 
Once you sign up, it probably becomes simpler to grasp, and if you keep using them and earning points, the reductions tend to mount up.
5. CampusBooks 
CampusBooks is among the top textbook rental sites currently available.
It's a comparison website that will look through hundreds of the top websites for renting college textbooks for you.
Since rental terms for textbooks differ by company, you can use CampusBooks filters to select the rental terms that best suit your needs.
In addition, CampusBook books' "Buy Vs. Rent Superbot" is pretty helpful. 
You can find out whether it's less expensive to buy or rent a textbook by simply typing in the title.
Also helpful is their Bookbag feature. You can add up to five books to your Bookbag at once, and CampusBooks will discover the best combination price for the entire bundle.
5. Valore Books
Renting a textbook from ValoreBooks comes with free shipping and a price match guarantee.
In addition, you get a refund of a portion of your money if you can discover a lower rental price within seven days.
Renting actual books for a quarter or semester is an option. Renting digital content is not, however, an option.
Unlike other textbook rental websites, which often offer free shipping, ValoreBooks charges shipping costs.
As a result, each book must be shipped separately for a standard fee of $3.95 or $6.95 for expedited delivery.
There is a 30-day money-back guarantee included with every ValoreBooks rental.
So regardless of your dissatisfaction, you can return your rental within the first 30 days for a refund.
6. Textbook Underground 
Textbook Underground claims to have sent more than 76,000 textbooks to more than 66,000 students since its founding in 2016.
Renting a book allows you to choose whether to keep it for the entire semester or just long enough to get through a test.
Textbook Underground offers 21-day hassle-free returns and numerous book searches like other websites.
They'll also send you a pre-paid mailing label when it's time to return your textbook.
You can pay for a 15- or 30-day extension if you have to keep your textbook for a longer time than the pre-arranged rental period.
7. BiggerBooks 
BiggerBooks is one of the renowned online bookstores where you can purchase deeply discounted textbooks and books. 
Utilizing their in-house developed system, which scans the web for the lowest prices and updates their own, they promise savings of up to 91 percent off list pricing.
You can rent, buy, or sell your textbooks when the semester ends.
Orders of $59 or more qualify for free shipping from them, so finding one shouldn't be too difficult.
8. Textbook Rush 
With free shipping for orders over $35, Textbook Rush advertises rates up to 90 percent off the list price.
Textbook Rush also has a 30-day money-back guarantee—more than a week longer than most textbook rental sites.
Textbook Rush frequently sends orders in recyclable green boxes, and they advise utilizing this box to send back your books once you're done with them. 
Additionally, the business covers return shipment, thereby further reducing your expenses.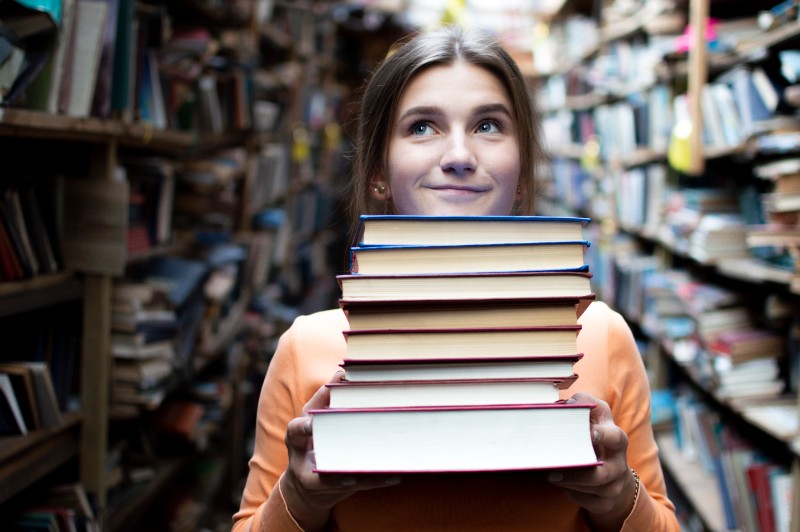 9. Alibris 
Alibris is the only place to go if you're looking for a rare book in your field of study.
There are a lot of rare and out-of-print books that it specializes in because of its extensive global network of independent book dealers. 
You can save money by taking advantage of shipping savings, such as flat shipping rates, consolidated shipping discounts, and free delivery on purchases over $39 for Super Value qualified items. 
You can search for textbooks by entering the title, ISBN, or author in the search box on Alibris.com.
The "best textbook price" results will be displayed on Alibris, and you can choose which books to add to your cart. 
Alibris sells not only textbooks but also music and movies!
10. Student2Student 
Student2Student is an online marketplace where students can transact with one another directly.
Sellers and renters advertise their goods, and purchasers and renters coordinate the transactions. 
Student2Student doesn't charge any fees for the transactions, making it perfect for small, localized commerce on campus or in the surrounding area.
In addition, a comparison tool will show you where to buy the book online for the best price. 
Being so close to home restricts the available resources. However, it also increases your chances of obtaining a book that your professor requires. 
11. Knetbooks 
Whether you rent for a day, a week, a month, or a semester, you get free shipping from Knetbooks.
For one-time rentals that cost below $30, Knetbooks is a wonderful choice because there is no minimum. Most lenders add delivery costs to small orders.
In addition to free shipping, you can use discount codes to cut your expenses further.
As an illustration, Knetbooks will send you a promotional offer for your initial offer.
12. RedShelf
One of the top educational technology companies, RedShelf assists publishers and colleges in switching from traditional print to more economical digital textbooks.
You can save up to 80 percent on the cost of traditional print textbooks by purchasing e-textbooks.
As you read, you can explain words you don't understand, make flashcards as you go, develop study guides, take notes alongside the text, and more.
Their digital publications also come with extra features like these.
RedShelf can be an excellent alternative to check out if you're searching for a location to buy your textbooks that are cutting edge and uses the most recent technologies.
In addition, it's one of the best textbook rental sites to check out. 
13. Textbookx
A division of the Connecticut-based internet retailer Akademos, Inc. is Textbookx.
This organization has a long history of selling books online for reasonable prices; it has been operating since 1999. 
College new and used textbooks are available from this company, and you can also sell books through its marketplace.
In addition to having three online partners to expand the variety further, the company stocks its books. 
However, the policies and delivery costs change depending on who has the book in stock.
For example, if you buy from Textbookx directly and spend more than $49, you can get free shipping.
Otherwise, each item will cost $4.96 for shipping.
14. CheapestTextbooks.com 
One of the best textbook rental sites for evaluating costs across different sites is CheapestTextbooks.com.
Its search engine swiftly scans the prices from all the platforms featured on this page. 
If you want to compare the market quickly, CheapestTextbooks.com is an excellent place to start.
Textbook Rental Sites: Consider These Factors Before Renting 
Before renting textbooks, there are a few things to keep in mind.
1. Look At The Long-Term Course Requirements First
You may only require a textbook for one semester in some instances. However, books for numerous semesters may be required for some courses.
Therefore, it's best if you go ahead and buy the textbook. 
If you're unsure, talk to your professor before spending hundreds of dollars on a textbook to make sure.
And besides, you can always sell textbooks online to get a reasonable portion of your money back. 
2. Consider How You Learn Best
Renting textbooks is a good option for some students. However, that's not the same for other people.
For students who need to refer back to a textbook several semesters down the road to verify a principle or theory, purchasing rather than renting the book may be a better option.
3. Check Out The Small Print 
It's a good idea to compare shipping costs once you've narrowed your search for a book to rent from one of the many retailers.
In addition, find out whether there are any late penalties or damage and loss fines if you fail to return the textbook by the due date. 
You should sum up all of these costs before you complete your purchase so that you have an accurate idea of what the book would cost in the event of a price drop.
Final Thoughts 
One of the simplest strategies to minimize your variable college fees is to rent books. Renting saves you time.
So go through these textbook rental sites to rent the books you need. 
By using these websites, you can save yourself from having to spend a sizable portion of your college earnings on textbooks.
Instead, put your money to work, investing for the future or paying down more pressing debt.
If you've already bought the textbooks, visit BookDeal.com and sell them for a higher price!