If you spend too much money on your college books, this might be the right time to get your money back, at least a significant portion of them.
This guide will detail the best places to sell textbooks in San Diego.
So if you live in San Diego, these places can help you resell your books because most of the list has been in the bookselling business for over 20 years.
So they have the right vendors who'll purchase your books for the right price.
With that said, let's begin.
#1 BookDeal
If you don't have the time to sell textbooks directly at a bookshop, you can try the alternative way – selling books online.
And one of the best places to do that is via BookDeal. 
It's the most convenient way to sell your books in San Diego, and it only takes a few minutes.
Just visit the site, type in your book's ISBN, select your preferred quote, and ship the books for free.
You get paid when the company receives your package, which usually takes five business days.
It's that simple!
#2 Bluestocking Books
Bluestocking Books have been around since 1967.
You can get a growing selection of new books and recent releases, used books, postcards and greeting cards, antique and unique items, etc. 
If you don't have time to go to their physical shop, you can sell your Bluestocking Books via AbeBooks.
The company lists their one-of-a-kind collectibles and ephemera there, including:
Titles from before the early 1970s,
Offbeat magazines,
Intriguing retro pamphlets, and
Small press publications without an ISBN
AbeBooks can help you find the books you're searching for. If you have any issues, you can give them a call or send them an email.
Bluestocking Books is one of the best places to sell textbooks in San Diego.
#3 Barnes & Noble
Barnes & Noble is one of the country's largest book shops.
They have a program that can assist you in selling your used college textbooks when the semester ends.
You can even save 90% off the cover price of a book.
Barnes & Noble offers free shipping on orders of $25 or more (almost any textbook).
#4 Footnote Books
Footnote Books is another excellent place to sell textbooks in San Diego.
It's a real bookshop in San Diego's Hillcrest neighborhood, located at 1627 University Ave, CA 92103, one block west of Park Blvd. 
The company offers a hassle-free way of selling your textbooks. However, they have thousands of books that are not available online.
So you'd have to go there in person and browse their shelves. 
Regardless, it's one of the convenient ways to get rid of your books.
So if you're closer to the location, you can pass by and get some cash back on your college textbooks. 
#5 Verbatim Books
Verbatim Books is a secondhand bookshop that offers a diverse selection of gently used and rare books.
Their inventory is meticulously managed to ensure that you can find high-quality versions of discoveries, favorites, and classics.
They also select the best new releases from small presses and micro-distributors like Burn All Books, Microcosm Publishing, Eternia Press, Caboose Press, Tiny Splendor, etc.
Verbatim Books also have over 200 local authors' new books and zines in stock.
Verbatim Books has previously aided in producing well-known community events, including the San Diego Book Crawl and the North Park Book Fair.
If you're searching for a place to sell textbooks in San Diego, consider Verbatim Books.
#6 Pennywise Books
Pennywise Books, established in 1982, offers you numerous options to sell textbooks in San Diego.
Besides selling books, you can also trade and donate textbooks. 
The bookshop accepts books like recent paperbacks, science fiction, philosophy, science, Kurt Vonnegut, classic children's books, etc.
But they don't accept valuable or rare books.
However, keep in mind that there are no guarantees that the shop will likely buy them.
So it's important to sell them early while they're in good condition. 
#7 Mesa College Bookstore
Mesa College Bookstore is a proud neighborhood bookstore that serves San Diego Mesa College students, staff, and professors.
Their main goal is to ensure that students get the course materials they need at a reasonable cost.
The bookshop also has numerous additional goods to help you with your academics and school spirit.
You can browse their website to sell your books or visit their physical store. 
However, remember that you won't get paid if your textbooks are counterfeit.
Usually, they'll send the books to the publisher for verification, meaning you won't get the book back. 
Create an account with Mesa College Bookstore to sell your books, type in your book's ISBN, and indicate where to send your check. And that's it!
It's one of the easiest places to sell textbooks in San Diego.
Sell Textbooks in San Diego: Shop Around To Find The Best Offer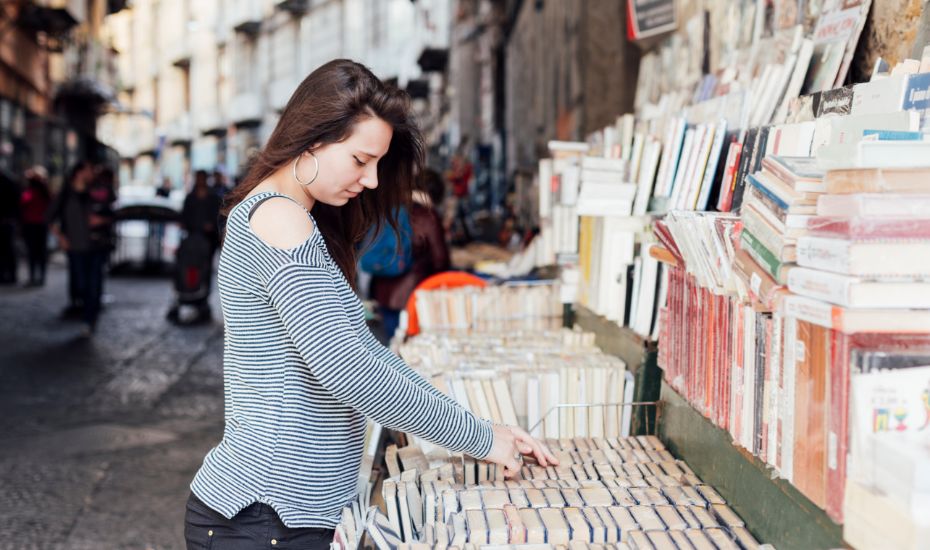 You can find the best deals from numerous bookshops, but the prices may vary significantly. So you'll need to shop around to find the best textbook deal.
Also, double-check the ISBN to ensure you have the same book as your class.
If the bookshops aren't working for you, consider selling the books online.
BookDeal.com can help you find the best discounts. Before you check out, you can use the site to compare costs.
Conclusion
It can be challenging to find the right place to sell textbooks in San Diego. After all, there are so many bookshops out there.
But you can go through the list outlined in this guide.
These bookstores are well-recognized, so you shouldn't have any issues selling your textbooks. 
If you don't have time to visit the physical bookshop, you can always sell your books online through BookDeal.
It's fast, easy, and hassle-free. 
Visit the site and start selling your books and earn cash!