Education is expensive. You need to pay high tuition fees, cover the costs of books, supplies, equipment, transportation, boarding, and many more. However, when it comes to working, being in a physical workplace can create more challenges. First, working in a physical setting limits your options as you can only work in local places. Second, it takes far more energy and time to provide service in a physical environment than in an online setting. Luckily, as a college student, you can access many online jobs and earn some money to finance your education. Besides, an online job can establish your future career path. This guide compiles the ten best online jobs for college students, some of which can be done by anyone, while others require specialization.
1. Social Media Manager
Average Salary: $20-25 hourly, can be as high as $70 if a high level of experience exists. 
Social media is becoming more and more important for businesses to connect with their customers. Social media platforms build brand awareness and generate engagement for the business. In addition, it is a fun way to communicate with the audience and an effortless way of making money.
One of the most important skills for such jobs for students is being creative. You need to exhibit that you are well aware of the audiences' needs and know how to engage them. Familiarity with social media metrics, new techniques to attract customers, being up-to-date with the social media features are necessary. If you study in Marketing or Social Media Management, you will maximize your chance to find a decent job.
2. Content Writer
Average Salary: Depending on the length or topic, you can get $10 to $50 hourly. 
Websites and Social Media Platforms access audiences, increase engagement and awareness through content creation. Therefore, content-related online jobs for college students are plenty. If you are creative and have good writing skills, you can find a content writer position easily.
While looking for a job, try to write small articles on various topics and present them to employers. It will help the businesses to assess your skills effectively. 
However, keep in mind that you compete with international content writers from all over the world. Hence, there will be writers who provide cheaper services than what you need. Therefore, be ready to start from a low salary and build it up as you gain more experience and trust.
3. Resume Writer/Consultant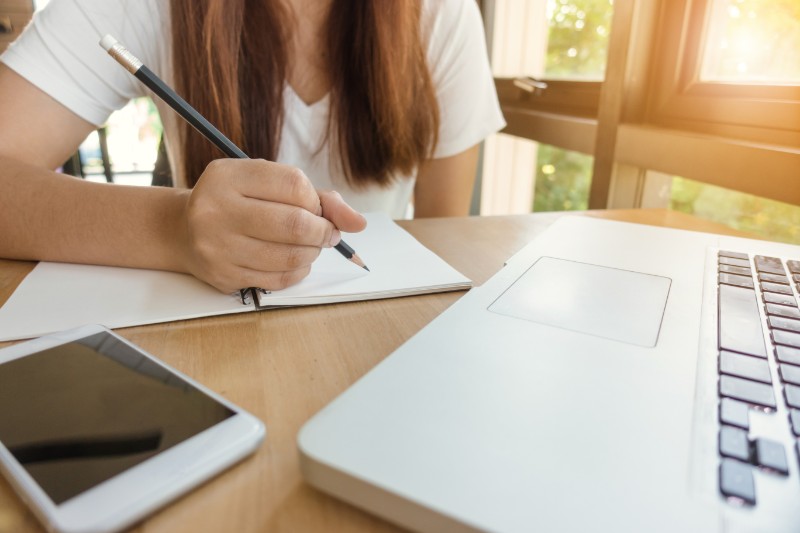 Average Salary: $15-25 hourly. 
With the advancement in Artificial Intelligence, Human Resource Managers no more scan resumes one by one. Instead, initial screening of the resume is done by some software. It means your resume should not only involve your experiences, but also it should be written in a way that the software recognizes.
Therefore, a resume plays a critical role for people in need of work opportunities. However, not all job-seekers know how to create a resume. If you have prior experience in resume writing, this can be a piece of cake for you. 
You can provide services as a resume-writer or a consultant who checks the ready resume and suggests the changes. Make sure you collect feedback from your customers to attract more job-seekers. 
4. Online Survey Filling
Average Salary: $1-3 per survey
Online survey filling is one of the online jobs for college students that do not require any expertise or specialization. Regardless of your experience or educational background, you can provide this survey and get paid.
However, as requirements are low for such jobs for students, their payments are also not high. Depending on the survey, you can only generate $1-3, and some platforms will not allow you to withdraw money unless you reach some point. 
The point is that online survey filling will not be enough to cover most of your expenses. Instead, if you want to have some extra money in addition to your existing personal finance, this can be an easy way. 
5. Online Tutor
Average Salary: $13-20 hourly
Some college students only have time to study. Hence, you might find it hard to learn new skills to earn money. In such cases, being an online tutor can be a well-paid job for you.
If you have good academic performance and your friends frequently ask you for help, it is a sign that you will be a perfect fit for an online tutor. There are a lot of students in an online environment who need your help with their homework or exams. 
You can start by spreading the word among your friends that you are providing such services. Additionally, providing this service in an online environment can bring you more customers.
Even if you are not good at your academic field, you can still be an online tutor for different skills. For example, if you play a musical instrument, tutoring can be a good point to start. You can make money with photography, fashion consultation, cooking classes- you can teach anything you are good at.
6. Power-Point Designer
Average Salary: $15-20 per work
Designing a power-point presentation takes a lot of time and expertise. You need to ensure that your slides are easy to understand but give enough critical information. Besides, your slides should be eye-catching without being overwhelming. A good presentation requires an eye for detail, which is quite a time-consuming process. 
Luckily, many businesspeople and keynote speakers do not have enough time to deal with such technicalities. However, if you enjoy creating power-point presentations, such online jobs for college students can be suitable for you. 
Try to present to your potential customers some of your previous good works to convince them. You can find job opportunities on platforms like Freelancer or Upwork.
7. Selling Books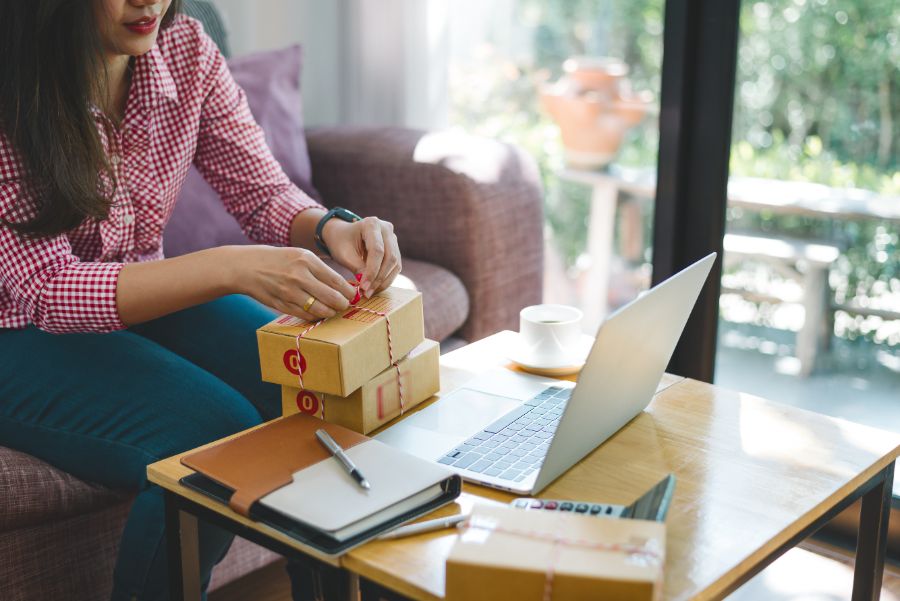 Average Salary: Depends on the conditions of the textbook.
If you have a lot of books that create a mess in the house, you can sell them to earn some side money. You might think that it is not a job but a one-time sales transaction. However, you can turn book-selling into a job.
If you are a college student, there are a lot of students around you who have the same problem: used textbooks that are no longer needed. You can collect these books from your friends to sell. There exist plenty of helpful platforms like BookDeal where you can sell textbooks. Once you sell the book, you can get a small commission from the earnings before you pay the money to your friends. 
8. Audio Transcriptionist
Average Salary: $15-25 hourly
Another example of online jobs for college students that do not require expertise is being a transcriptionist. Nowadays, some tech companies enhance their Artificial Intelligence through inputting audio recordings and their transcriptions. Hence, you have a great opportunity to earn money from home – only a few hours a day. 
Some requirements for such jobs are an internet connection, equipment like a laptop (no phone or tablet), and good language skills. Besides, you will be trained in writing and transcription skills. 
The payment is usually made on an hourly basis. Therefore, if you learn to transcribe faster, you can earn more money per hour.
9. Web Designer
Average Salary: around $60,000 yearly
Web designers are expected to deliver excellently functional, catchy designs for websites. So sure, you need to have web-design skills and some experience for such online jobs for college students. 
Creativity is important for this role, but it is not enough. As you will interact with the customer frequently, you need to be punctual, responsible, deliver results on time and as desired by the customer. Otherwise, negative feedback can be a barrier to find a new client.
Besides, some platforms exist that can market your service. In such cases, your earning will be low because these platforms get commission fees from your work. However, at the beginning of your career, they can help you to find some customers.
10. Search Engine Evaluator
Average Salary: $12-15 hourly
Search Engines like Google work with experts to advance their technologies and user-experience level. However, despite the technological know-how, they can still fail to provide the best service. In this case, they rely on users, like you, to check the service and give feedback. 
Your job will be analyzing search engine results to check if they are accurate, relevant, or helpful. Then, based on your qualitative and quantitative research, you are expected to give recommendations for development. 
The job is simple, but it requires some time on the internet consistently. It will be helpful if you get familiar with Search Engine Optimization. However, you will still need to be trained and be required to pass a qualification exam.
Final Words
Online jobs create an opportunity for students to earn some pocket money. Besides, you can establish your career path through these jobs for students.
As a college student, you can access several job opportunities in an online environment. Some of these online jobs for college students have fewer requirements that fit many students -online survey filling, selling used books, audio transcription. Meanwhile, others – like Social Media Manager or Web Designer- require expertise. If these jobs are not suitable for you, you can still find many others on online job-providing platforms.