If you have found this article, it probably means you have mountains of textbooks collecting dust. So you might need a plan to recycle college textbooks. Do not worry. You are not the only one looking for ways to recycle textbooks. 
This is what we mean. 
According to the survey conducted by OnCampus Research, most college students use 5-7 textbooks minimum for each semester and at least 40-60 within a four-year program. 
That is a lot of books, so it is not unusual to have unwanted textbooks accumulating dust. In this article, we will show you how and where to recycle textbooks, sell, or trade them. We will also show you how to get paid to recycle books.
Let's get into it.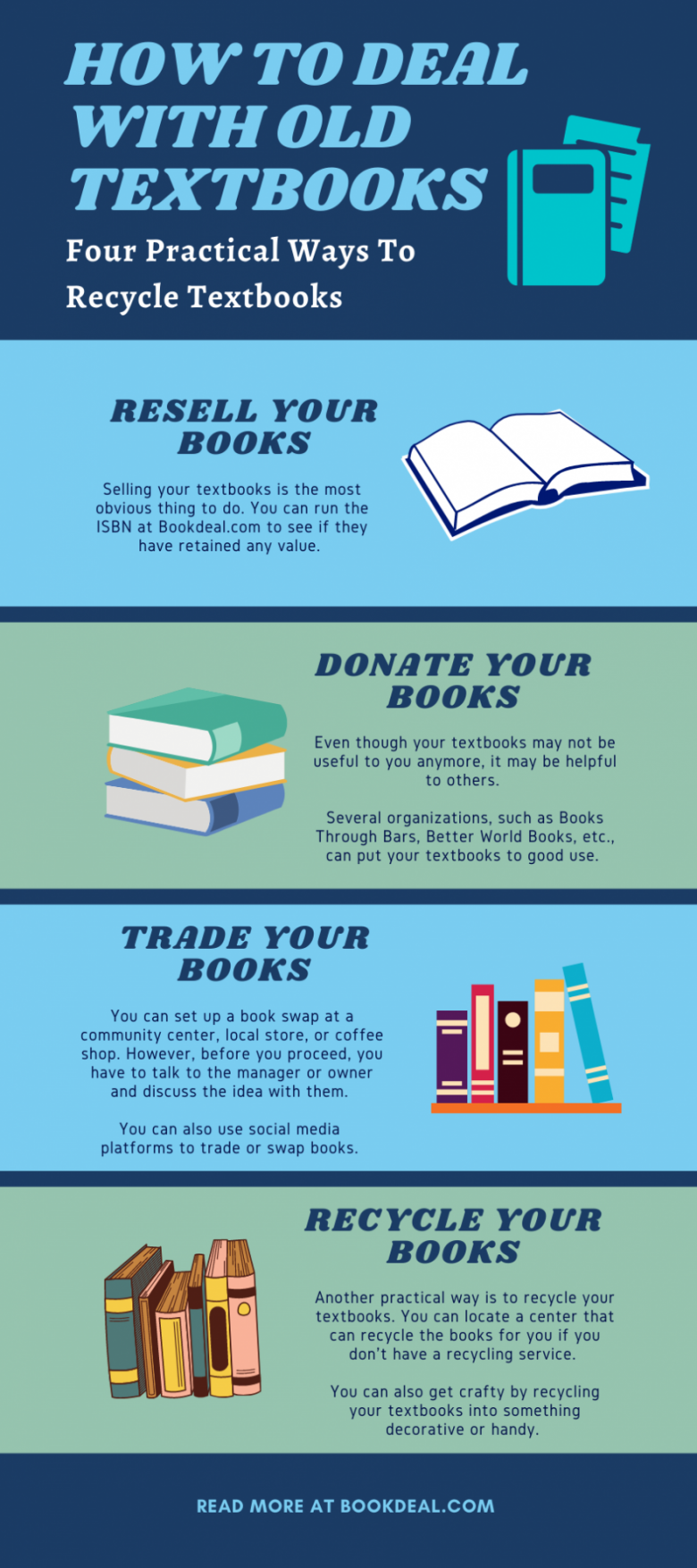 Where To Recycle Textbooks
#1 Sell Your Textbooks 
One way to recycle old books is to sell them. When you sell them online, you get paid to recycle books. Before you sell your textbooks, you need to undergo a necessary process. The process will ensure that you get a good deal at the buyback vendor. When it comes to selling used books, better conditions mean greater demand, selling it at a higher price. 
If it is in a worse condition, it won't be easy to sell. And that is because a potential customer wants a clear and honest description of its physical condition. Here are ways to check the condition of your textbook before reselling. Booksellers use this process to determine the amount you get for reselling your book. It can be of great help to you. 
Remember that you can use the definitions below for reference only. Most booksellers prefer to use these terms, including other unique ones, based on their requirements. So if you want more clarification, you can contact the bookseller for further information. 
As New: 
This term refers to a book in the same perfect condition as the day it was published. It could be a book's description missing in the warehouse for years, never opened, shelved, or thumbed. But it is still many years old. 
Like New (LN): 
When a book is described as Fine, it means it is almost the same as "As New." However, the book may have been opened and read many times. But there are no damages or defects to the pages, jacket, or the book itself. 
Very Good (VG): 
The Very Good describes a book with small deterioration or wears, but there is no tear on the paper or binding. The bookseller must note any small defects it has. 
Good (G): 
It describes a book that has an average worn book that is used. It has all the leaves or pages of the book available. Take note: the bookseller should let you know any defects the book has. 
Fair: 
The Fair describes a worn book, but it contains all the complete text pages. And that includes plates or maps but may not have half-title, endpapers, etc. If the book has any binding, jacket, etc., it may also be worn. The bookseller must indicate all the defects of the book. 
Poor: 
It describes a highly worn book. The bookseller should be able to indicate all the pages that are missing. The book may be stained, spotted, soiled, may have loose hinges, joints, pages, etc. 
Binding Copy: 
The Binding Copy describes a book with all the leaves or pages in the right condition but has bad, off, loose, or non-existent binding. 
Reading Copy: 
This describes a copy in Poor to Fair condition and has all the text in a readable manner. But aside from that, there is nothing else. You can read the text, but that's just it. Nothing more. 
These are how the booksellers will grade your book. With this information, you can know the steps to know where to recycle textbooks. 
By the way, BookDeal.com provides the most reliable way to sell your books at a higher price and guarantees your payment. It is the easiest way to sell your textbooks.
#2 Donate Your Books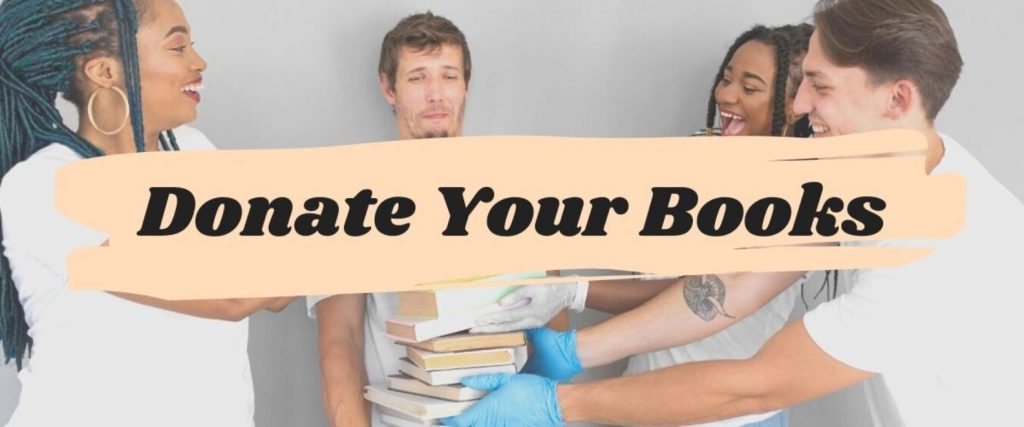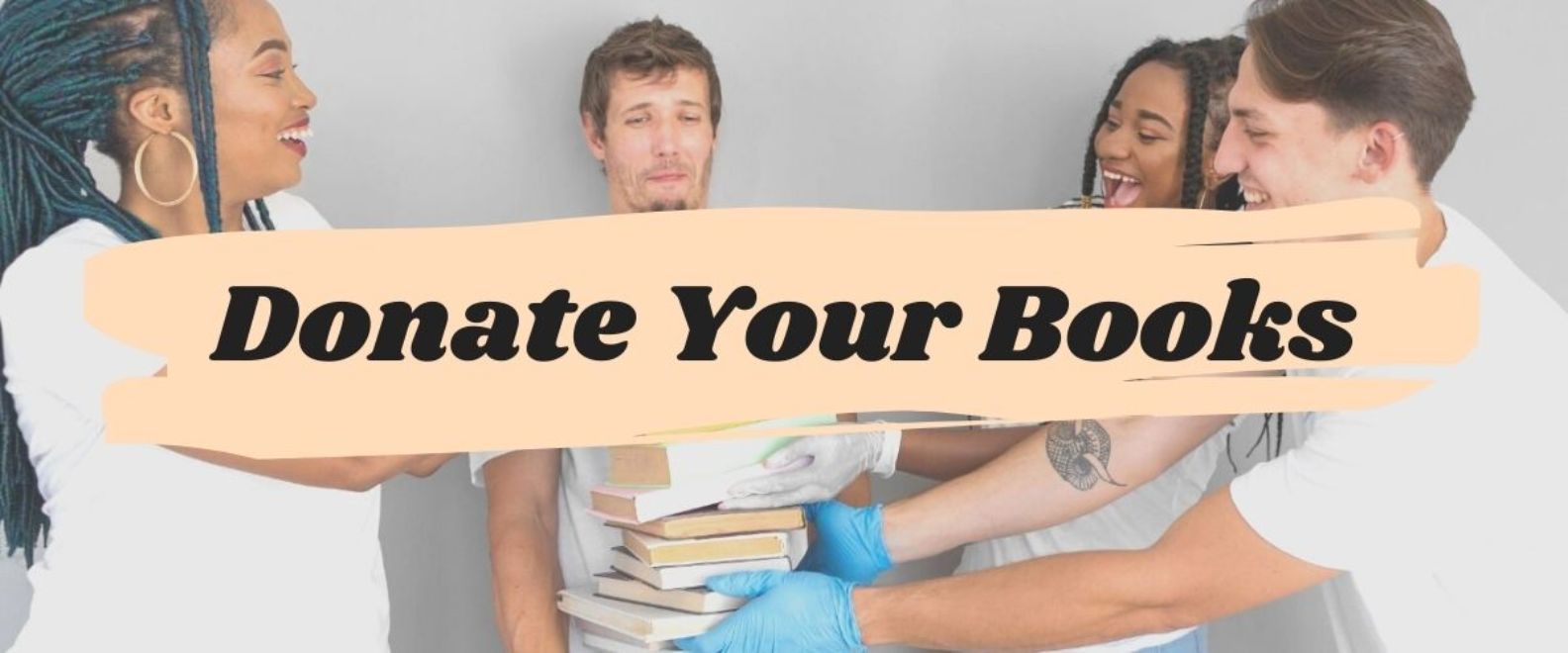 Donation is another way to recycle old books. Yes. The textbooks may not be relevant to you anymore, but they can be highly beneficial to someone else. Numerous organizations make it simple for you to give away your old textbooks. And they all serve diverse groups and communities, which makes book donations an exciting experience. 
Why? 
Because you get to donate to an organization that gives you a lot of meaning and a sense of fulfillment, so, you know that your books will be used for a great cause. Here are a few options on where to donate your textbooks: 
Libraries 
There is no doubt that libraries are the pillars of any community. They offer access to knowledge, enhance literacy, and provide a safe and quiet place for everyone to learn. Donating your textbooks to your local library will help them add to their collection. The librarians can also resell the books to help them fund other equally important programs. 
Goodwill 
Goodwill has been serving various local communities for more than 115 years by selling donated items. They then use the proceeds to fund their career training and other related services like childcare and supplemental education for those in dire need. 
You can check out Goodwill's official website to find out more about what they do. You can also find a Goodwill location near you. 
Salvation Army 
You may not know, but Santa has collected donations for the Salvation Army before Christmas. However, did you know that you can give away your textbooks as well? The donations go to the Salvation Army Family Stores, and they use the funds raised to start excellent programs. 
Better World Books 
The Better World Books accepts your book donations and gives them to people in need. The organization also offers literacy grants to libraries and non-profits and protects the environment from unnecessary waste. 
You can search the Better World Books official website to learn more about the shipping process or locate a drop box near you. 
Books Through Bars 
Do you want to help inmates acquire vital education and training? If so, then Book Through Bars is one of the best options. The organization collects a variety of books, from entertainment, instructional books to your textbooks. No book is irrelevant. 
However, before you proceed, read through their checklist and guidelines first. That is because they do not accept hardcover and specific book types. 
Books For Africa 
If you want to know where to recycle used books, Books For Africa is another great organization to send your textbooks to. They accept almost any type of book and ship them to Africa to enhance the education conditions of those in dire need. You can check out their website and follow their procedure. 
These are a few places where you can donate your textbooks, but there is more out there. So if these lists are not what you prefer, you can search for the best that suits you. 
#3 Trade Your Textbooks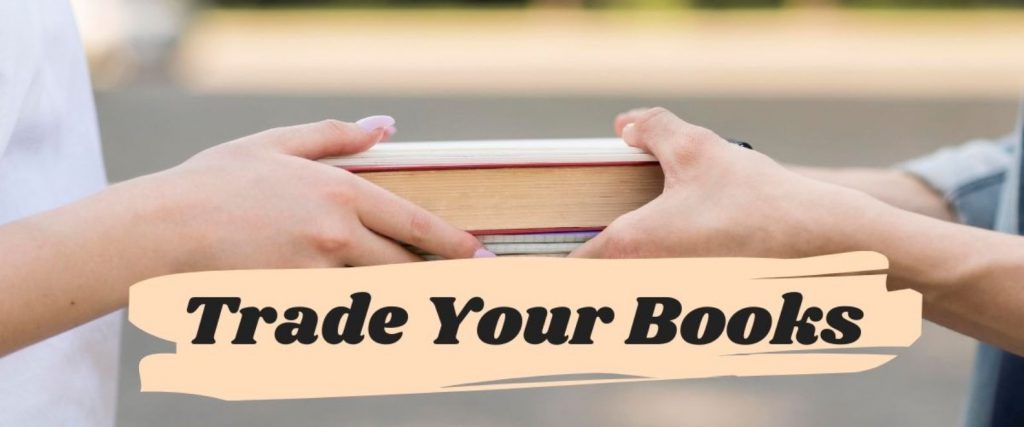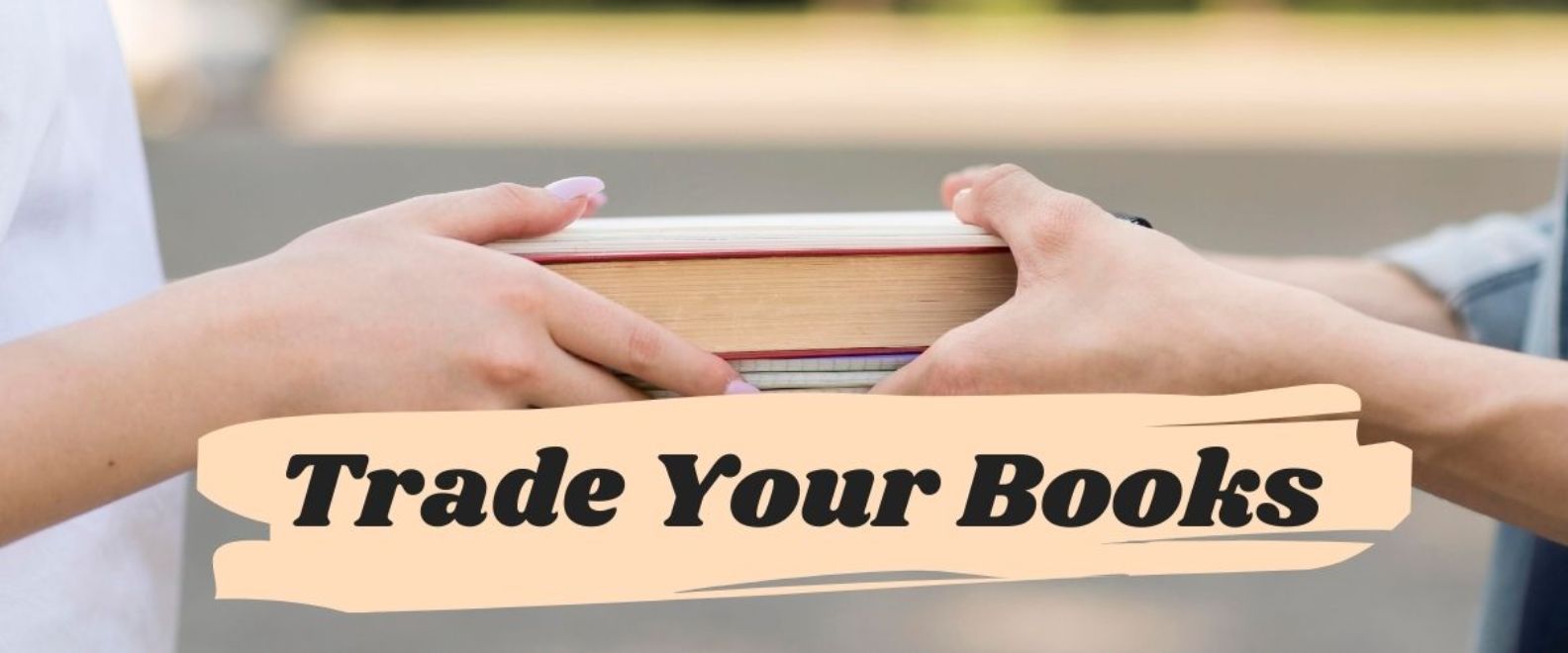 Another simple thing you can do with your old college textbooks is to trade them. You can establish a book swap at a store, community center, or a local coffee shop. It can be an exciting way to give your textbooks to someone who might urgently need your book. You may also find a new favorite book for yourself. 
Before you proceed, make sure to contact the venue manager or owner and explain what you plan to do. Do this before you commence. You can also opt for social media platforms to find and meet other colleagues or students from your school or your area. 
You can create a book swap group where you can share your textbooks with the group members. Furthermore, you can use websites such as PaperSwap Books. The site allows users to make a list of books they want to share with the community and request any book you want to read. 
Think of it as borrowing a book from a friend except that you have endless friends with millions of readers to select from. 
#4 Recycle Textbooks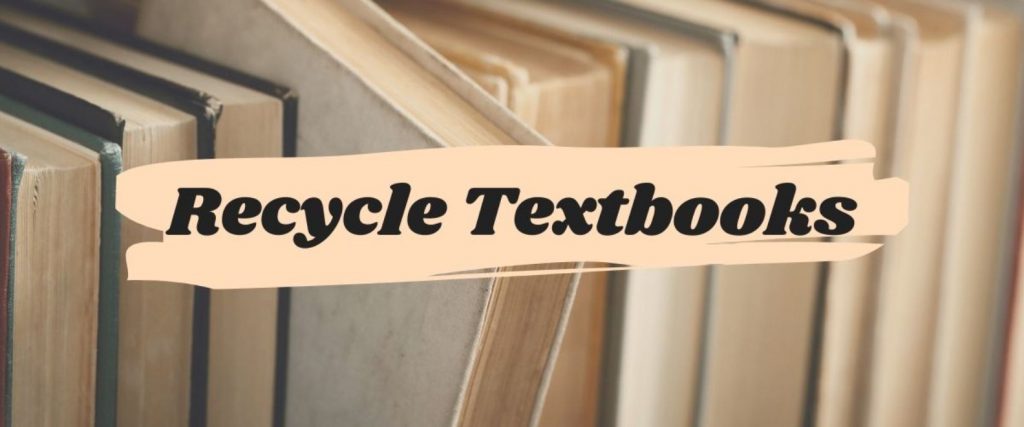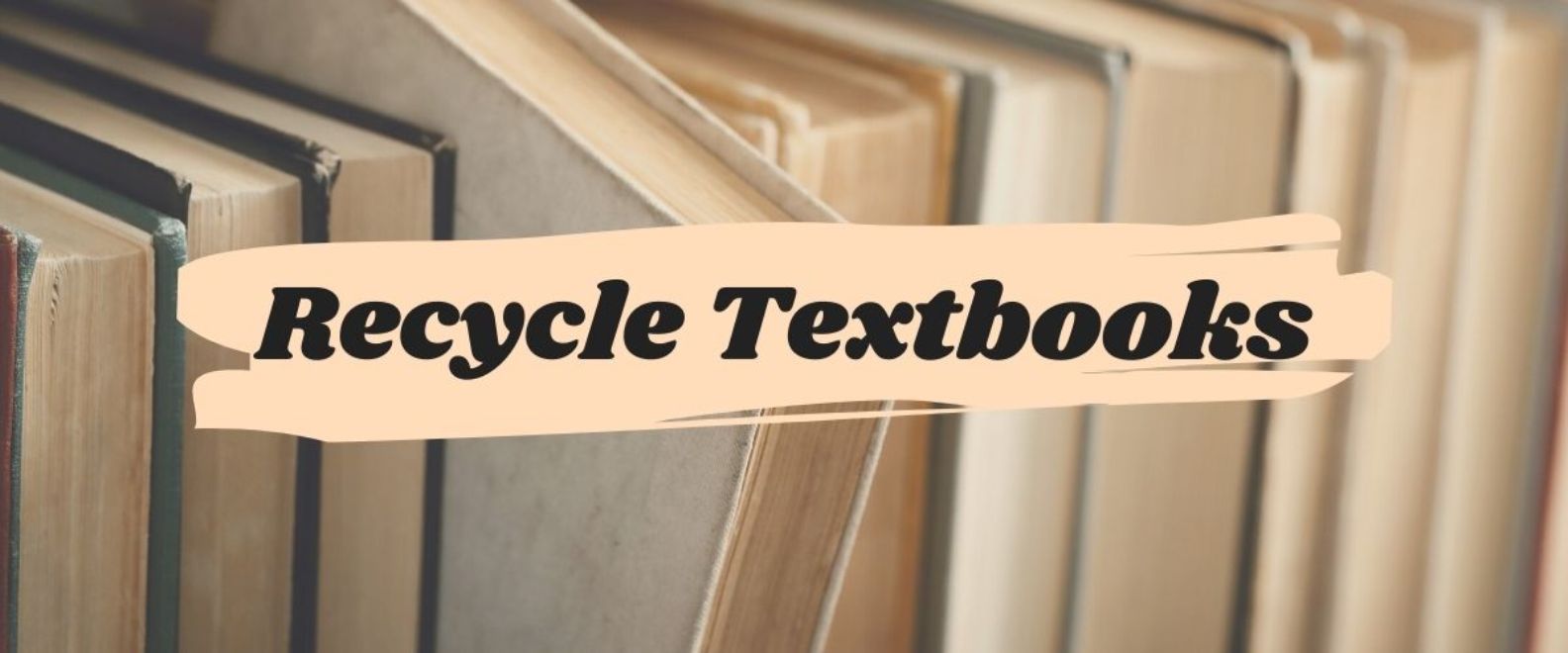 If all the steps mentioned earlier fail, and you cannot figure out what to do with your textbooks, throwing the books away may seem the best option. But before you step out and throw it in the trash can, consider recycling. 
According to a recent survey from the Environmental Protection Agency, "Paper and Paperboard" constitutes 25% of the 17.8 million tons of waste produced. You can play a significant part in decreasing the waste by: 
Book Recycling: 
If your textbook is a paperback, you can recycle it by dumping it in the proper bin. If you want to recycle books with hardcovers, you will have to remove the cover first. (Do not forget the spine too). The reason behind it is that it contains materials such as threads, glue, and plastics. 
Find A Center 
If you do not have a recycling service and do not know where to recycle your textbooks, use Berecycled.org. The website can help you find commercial and government alternatives in your area. 
Get Crafty
Another way to recycle your textbooks is to get crafty. You can take the books out of the landfills and make something handy or decorative. The possibilities have no end. You can get inspiration online and create unique artifacts. 
Remember that every help, regardless of how small, is essential. Whether you recycle your textbooks, sell or donate them, you help reduce waste, support a community in need or both. It is all up to you to decide. 
Why Is There A Need To Recycle Textbooks?
Do you know the amount of waste old textbooks generate in a year? It is unbelievable! The United States National Wildlife Federation researched in partnership with textbook publishers and the United States Environmental Protection Agency. 
The research was about the number of books dumped in landfills each year. They found out that 640,000 tons of books were thrown into landfills annually. And what's worse, the landfills in the United States are reaching their full capacity, according to the Global Citizen. We have less than 18 years to find other alternatives before the landfills become full. 
Of course, not all the waste comes from textbooks, but it significantly adds to it. The United States has already begun exporting waste to other countries. These should be a good enough reason to reconsider before you throw anything away, especially books. 
Conclusion 
Books are like lectures or vacation; it is hard to get rid of. At some moment, they take us on a journey or teach us something new. As a result, we usually end up with a collection of books that we do not need and have not used in years. 
If you want to recycle college textbooks, follow the detailed list outlined in this guide. It gives you information on where to recycle used books. If you are searching for the best place to resell your textbooks, we can help you. We understand that reselling your book can be a bit challenging. That is why we make it easy for you to sell your books and get paid. 
We are partnering with a vast network of reliable book-buying organizations. So, go ahead, run the ISBN code of your book, and list it for sale on our website!
FAQS 
1. How do I recycle paperback books?
Ans: You can recycle paperback books just like any other paper products: recycle, sell, or donate. You can place your paperback books in the "Mixed Paper" bin at your local recycling center, and there are numerous organizations that will accept your books. If you want to sell and earn some cash, you can sell them online at various bookselling sites such as BookDeal.com.
2. Where can I recycle old phone books?
A: You can recycle your old phone books through curbside recycling programs. They accept phone books as mixed waste paper. If your community doesn't have curbside recycling pickup, you can send it to the local recycling depots. If your phone books are covered in any plastic, please separate plastic before recycling the phone books.
3. Where to recycle books in Portland?
If you reside in Portland, you can download the South Portland Recycles app. You can use the app to check your address's pickup schedule and add trash set-out reminders to your calendar. You can even find out how to dispose of your books through the recyclopedia. If you want more information, you can check out South Portland's trash and recycling.
4. Where do I recycle books in St. Louis?
The City of St. Louis provides fully implemented residential recycling services you can use. If you find where to recycle your books, check out St. Louis drop-off recycling locations. If you want to recycle at school, home, or work, check out St. Louis official site.
5. Where can I recycle books in Denver?
You can recycle your books at your local recycling center. You can also donate your books to various charitable organizations and bookstores such as Bookbar, Black & Read, The Book Rack, etc.
6. Where can I recycle books in Texas?
If you are based in Texas, you can check out Recycled Books Records CDs, DFW Book Recycling, or Recycled Reads Bookstore. If you want a schedule for a recycling and reuse drop-off center, check out AustinTexas.gov.
7. Where do I recycle books in San Diego?
There are several places you can recycling your books if you live in San Diego. Some of the places are Friends of the San Diego Public Library, Recycling Center San Diego, Sand Diego Free E-Waste Drop Off, etc. You can also sell your books online if it's in good condition.
8. Where can I recycle books in California?
If you are in California, you can recycle your books at Recycle Bookstore West or Recycle Bookstore. You can also check out the Where to Recycle Map to find the nearest recycling center in your area.
9. Where can I recycle books in New York?
You can check out numerous recycling websites such as Freebird Books & Goods, Big Reuse, The Junkluggers of New York City, or New York Recycling. You can also sell your books on BookDeal.com and earn a reasonable price.