Do you know people who are serious book lovers? You know, the ones that spend at least twice a week at the local library and never leave the house without a book or two in their bag? For such people, you can always find them reading a novel.
Now, you probably think the best holiday gift for them is more books. But the problem is, they've probably read the books you've purposed to buy. Fortunately, books aren't the only presents book lovers prefer. 
If you're struggling to find the perfect gifts for book lovers, try this. Think outside the box or outside the book, for that matter! In this guide, we'll show you the best holiday gifts for your friends. 
Let's begin!
9 Best Gift Ideas For Book Lovers 
1. Banned Book Socks 
Are your book lovers majors in English? If so, why don't you get them a pair of black and white shocks? 
One sock lists the books' titles that were banned some time ago, such as Native Son, Song of Solomon, The Great Gatsby, etc. The other sock shows titles of books that are blacked out. It's available in large and small sizes for $10 at Uncommongoods. 
2. 100 Books Scratch-Off Poster 
Scratching off books listed on the interactive poster you've read is one engaging and fun way to read books. There's no doubt avid readers will find it delightful. 
The scratch-off poster features 100 titles such as Harry Potter, The color Purple, Freakonomics, and even The Great Gatsby. Every time the poster shows a classic, it gets more colorful. The poster also has a version for kids. 
3. Harry Potter Holiday Magic: Official Advent Calendar 
Advent calendars are ideal for kids. But did you know it's not for just kids? As long as you're a Harry Potter fan, you'll surely enjoy opening an envelope every day for the 25 days that lead to Christmas. Each day comes with a special surprise placed in the envelope. 
You'll find over 40 keepsakes with coasters, mini booklets, coloring cards, keychains, etc., tucked inside. The event calendar captures the magic from the Harry Potter movie, but we're sure that fans of the book will also enjoy this gift. 
4. Juniper Books Lord Of The Rings Dust Jacket
First of all, Juniper Books have dust jackets based on numerous books, not just Lord of the Rings. So you can choose the one that your book lovers like, and one of them is sure to be the Lord of the Rings. 
The dust jacket is for those who love rearranging their home library the same way they love reading. Custom book jackets create a unique look on any shelf. 
Juniper Books have been making custom dust jackets for more than 20 years. So you have many collections to choose from. 
5. Abibliophobia Mug For Book Lovers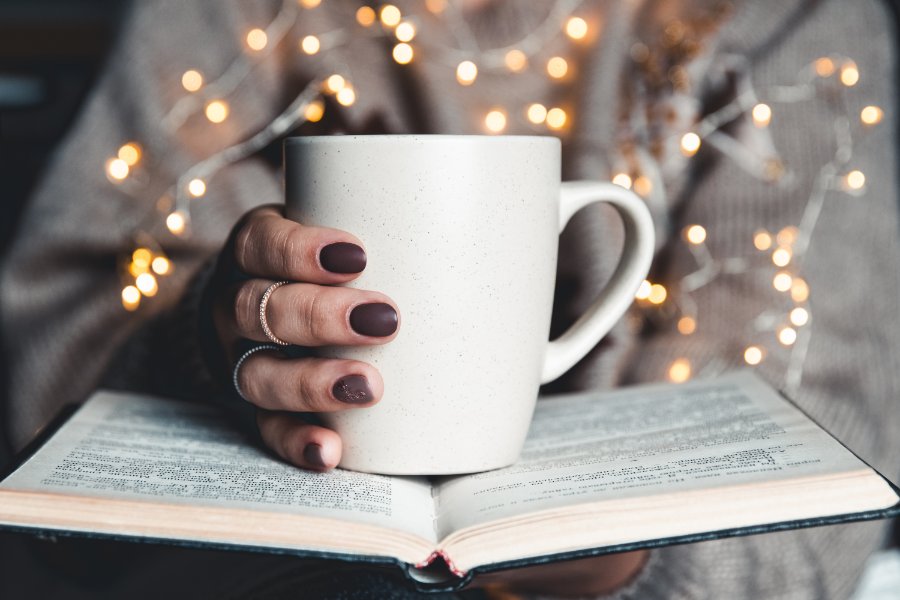 One of the best gifts for friends is the Abibliophobia mug. This ceramic mug will do if you know a friend or relative who loves the morning with some light reading and a cup of coffee. 
The mug comes with the definition of Abibliophobia on one side. And the other side can be empty or words like Sleep, read, coffee, etc., depending on where you purchase them. The mug is available in white with black accents or white and different sizes. 
6. Bookish Candles 
Have you noticed that candles give you that cozy feel, at least if you choose the right one? Well, bookish candles increase the coziness time ten. In addition, you can get bookish candles free from synthetic fragrances, phthalates, colorants, and paraffin.
But why not colors? It keeps the candles free from toluene, benzene, and other volatile compounds that make them clean. You get to feel the fresh pages of a book when using such candles. 
You can purchase bookish candles for $9 on Smells Like Books. They've got over 40 bookish scents to choose from. 
7. First Edition Book Cover Art Print 
Displaying favorite literature as art with shadowboxed prints with your favorite book titles is one of the best gifts for friends. 
You get photo prints that are amazingly real and crisp. And that's because each book is carefully photographed to maintain its original wear and marks. Then, it's remastered to highlight each detail of the cover design. You can get high-quality prints of "The Wizard of Oz," "Pride and Prejudice," "The Raven," etc. 
8. My Miniature Library 
If you have a young book lover, they'll surely love My Miniature Library. It's a beautiful tiny library collection of 30 complete, pint-size tales with illustrations and text. In addition, the library features 20 titles such as Jabberwocky, Hansel and Gretel, Cinderella, and many more. 
In addition, it also comes with ten blank and templated books which the child can complete. The box, which looks like a book, can also serve as a playset. It's a wonderful holiday present to give to your children. 
9. Still I Rise Book Scarf For Book Lovers
If you check the Storiarts site to purchase this scarf, it has numerous 5-star reviews. There's a reason why. The scarf is made with highly soft cotton in the U.S. and features one of Dr. Maya Angelou's magnificent poetry – Still I Rise.
The scarf also comes with original hand-drawn artwork from Storiarts. We're confident that your friend or book lover will adore the illustrations and blue text on cream color. It's super pretty and looks beautiful on anyone! 
By the way, there are many other literary scarves to buy for your friend, if you don't prefer this one. 
In the next section, we'll explore how to wrap a book for your friends. 
How To Gift Wrap A Book For Your Book Lovers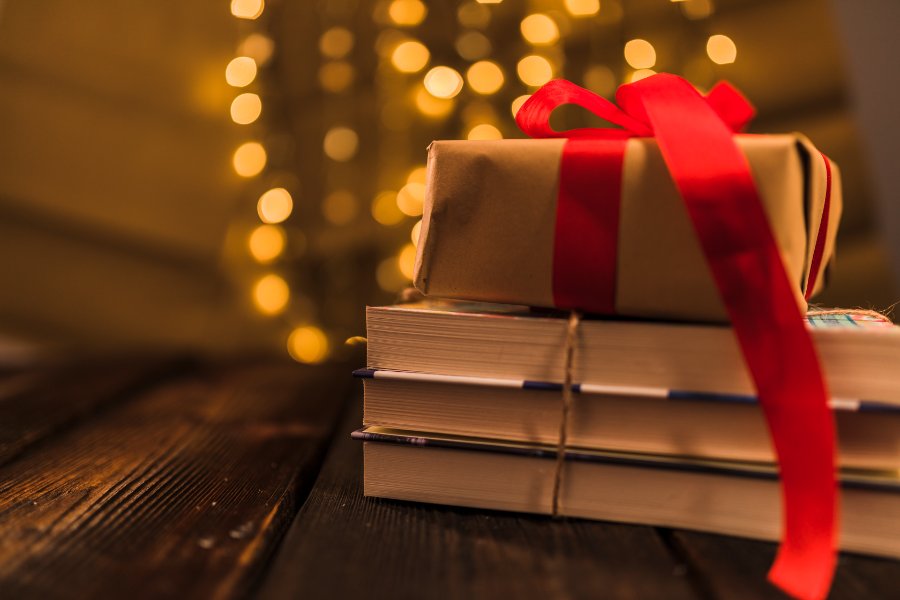 Should you decide to buy books for your book-loving friends, use this section to learn how to wrap a book, at least. You'll need the following supplies: 
Tissue paper 

Gift wrap 

Scissors 

Tape

Ribbons and bows
Here's how to gift wrap a book: 
1. Use The Tissue Paper To Wrap The Book 
This step is a swift one that adds to the unique feel of the elegantly wrapped gift. There's no rule here, so a layer of the tissue paper can act as the shiny pop of color or just plain. It's up to you and your creativity. 
It also prevents you from damaging the gift book cover accidentally with tape.
2. Cut The Gift Wrap And Cover The Book 
After selecting the gift wrap, cut enough paper to wrap the book entirely. Remember to place the book face down. That way, there will be no seams found on the finished front. After, fold the two long sides inwards to meet the middle. 
Place your finger along each fold. That ensures that it creates a crisp seam at the edges. Remember: the pieces don't necessarily have to meet in the middle. It should be fine as long as your seam is nearer to one edge. 
What's important is to make sure you have enough paper to cover the entire book. 
3. Tape The Inside Edges To The Tissue Paper 
Tape one side of the paper to the tissue paper liner. This helps to fasten the paper in place. After, fold the other side too. Then, when you have a tight fit and comfortable fit, tape that side as well. 
The next part is the gift book's end, and that part can be tricky. First, fold one side of the paper end diagonally, making a triangle shape that meets the other side of the book. Make sure you don't tear the corners of the paper. 
After that, do the same for the other side. 
4. Tape The Edges Of The Book 
If you did the previous point right, there would be a paper that ends with a point out from the book. Fold that point into the gift book and tape it. Then, repeat the same process on the other side. 
Ideally, the points should meet at the middle of the seam. But don't worry if it doesn't; the last part uses any ribbon or bow to tie a pretty ribbon around the book. That will create a nice bow and add a gift tag or note. 
If you want to learn how to gift wrap a book, check this tutorial. That will give you enough ideas on gift wrapping. 
Conclusion 
If you're searching for the perfect holiday gift for book lovers, look no further. You can go through this guide and choose the ones that your friends love. We've also included how to wrap a book, including video tutorials to make your gift more customized and memorable.